Milos Popovic, assistant professor of electrical, computer and energy engineering at the University of Colorado Boulder, has been awarded the prestigious Packard Fellowship in Science and Engineering.
Popovic is one of 16 scientific researchers from universities across the country to receive this year's fellowship, announced by the David and Lucile Packard Foundation this week. Each of the fellows will receive an unrestricted research grant of $875,000 over five years.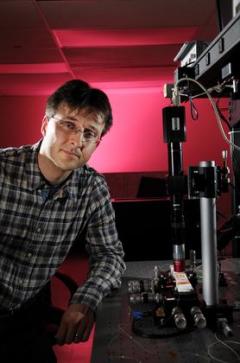 Popovic will investigate light-based devices for future microchip technology where light particles -- photons -- squeezed into nanometer-scale dimensions in silicon nanowires on chips give rise to unique physics. His research may enable ultra-low energy, "smart" self-adaptive circuits, and technology for communication and computation using quantum mechanics.
"The campus is delighted to learn that Professor Milos Popovic has joined the ranks of our highly talented faculty who have previously been named Packard Fellows," said Vice Chancellor for Research Stein Sture. "We congratulate Dr. Popovic on this outstanding achievement."
Popovic joined the CU-Boulder faculty in January 2010 after serving as a postdoctoral associate in the optics and quantum electronics group at the Massachusetts Institute of Technology. He holds the GE/Donnelly Faculty Fellowship in the Department of Electrical, Computer and Energy Engineering.
He earned his bachelor's degree in electrical engineering at Queen's University in Kingston, Ontario, graduating first in his class, and his master's and Ph.D. in electrical engineering at MIT.
The Packard Fellowship program was established in 1988 to allow the nation's most promising professors to pursue science and engineering research early in their careers with few funding restrictions and limited reporting requirements. The program arose out of David Packard's commitment to strengthen university-based science and engineering programs in recognition that the success of the Hewlett-Packard Co., which he co-founded, derived in large measure from the research and development in university laboratories.
The 2012 fellows were selected by the Packard Fellowship Advisory Panel, a group of 12 nationally recognized scientists and engineers, and approved by the Packard Foundation Board of Trustees from a field of 98 researchers nominated by presidents of 50 universities that participate in the Packard Fellowship program.
Popovic joins 13 other faculty from CU-Boulder who have received the prestigious fellowship over the years.
For more information about the Packard Foundation go to http://www.packard.org.