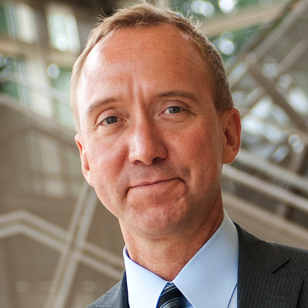 Limitations imposed by existing approaches to large-scale data analysis and computation stand in the way of new discoveries in major areas of science and engineering. CREST will work to change that by developing a computational ecosystem that performs successfully at exascale (one quintillion calculations per second) on complex time-varying data structures.
"CREST's transformative approach to large-scale, data-driven computing can greatly benefit the scientific community," said Brad Wheeler, IU vice president for information technology and CIO. "Professor Sterling and Lumsdaine's excellent track records in leading federal grants and their sharp focus on game-changing computing architectures spell great promise for high impact outcomes for the growing scale of modern science."
IU recruited Andrew Lumsdaine and Thomas Sterling—two of the international supercomputing community's foremost thinkers—to run the center as director and co-director, respectively. Lumsdaine is currently the director of the Open Systems Lab at IU's Pervasive Technology Institute (PTI), while Sterling is best known as the "father of Beowulf" for his pioneering research in commodity/Linux cluster computing. In fall 2011, Sterling came to IU from Louisiana State University, where he was a leader in the development of the ParalleX exascale execution model and HPX high performance computing runtime system.
Beth Plale, managing director of PTI, said, "Memory-intensive, data-driven fields like artificial intelligence, cybersecurity, and genomics already use supercomputer-scale resources. Andrew and Thomas give CREST superior leadership and expertise to revolutionize computing at this scale, further cementing IU as a recognized leader of innovative infrastructure that responds dynamically to rapid data growth at exascale speed."
The Human Genome Project, Facebook, and Google are just a few of the well-known applications currently using large-scale, data-driven computing.
"This is a special time," said Lumsdaine. "We are at a tipping point not only in terms of the amount of data being generated and the importance of it, but also the computational challenges that we face to make best use of it."
Sterling added, "Having a wealth of information at our fingertips has changed the way we live, work, and learn. By establishing CREST, Indiana University ensures that innovative advancements in science, engineering, and technology will continue to enhance our lives and improve our futures."